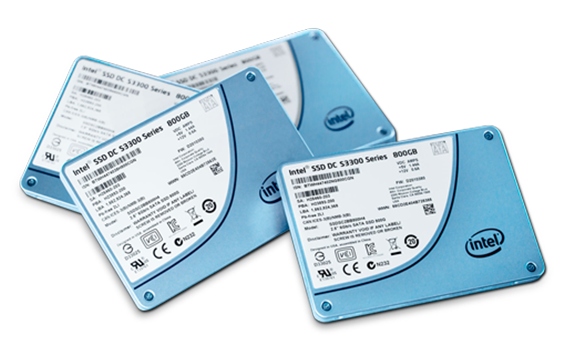 SSDs are the future of storage: they're getting more affordable and offer more storage space than ever before. The lastest generation of SSDs designed for data centers are now just as reliable as mechanical HDDs (hard disk drives), but offer up to 500 times more performance.
---
Better performance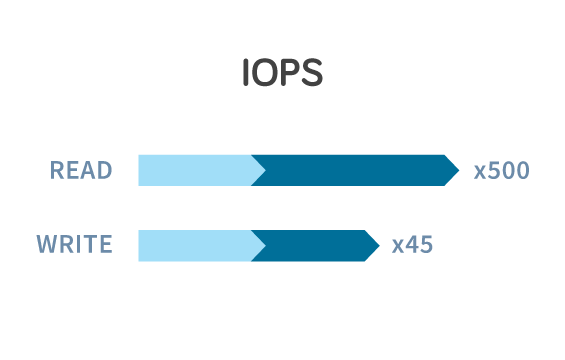 An SSD can produce 75,000 IOPS (number of input/output operations per second), whereas an HHD can produce just 150.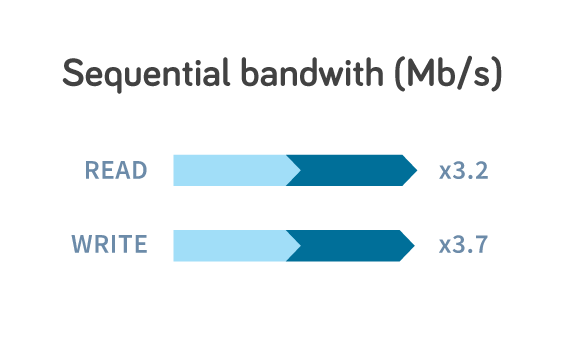 Where write speed is 115 Mbps for writes on a traditional HDD, it can reach 430 Mbps on an SSD.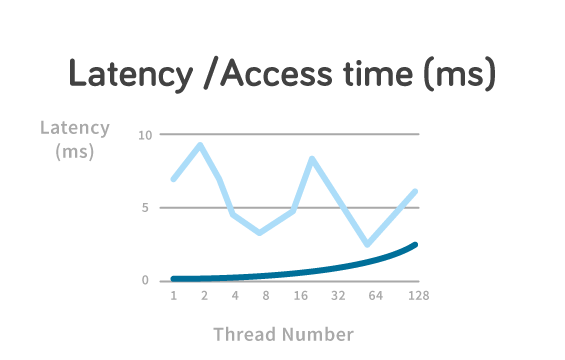 SSDs not only have reduced access time; the latency also remains stable, regardless of the load on the SSD. This performance guarantee is a major strength of data center SSDs.
Performance consistency and service quality
It is equally important for servers to have consistent performance as it is to have maximum performance.

Performance consistency is one of the things that consumer SSDs apart from the data center SSDs -- and why OVH has chosen data center SSDs.  Data center SSDs scale better in RAID configurations.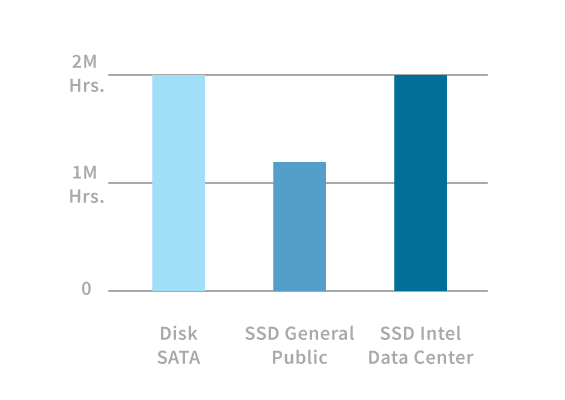 Reliability
SSDs are as physically reliable as high-end mechanical disks, with a mean time between failures (MTBF) of 2 million hours. The issue with SSDs stems from their durability, as memory cells only support a limited number of write cycles. But don't panic! SSD controllers check that the data is intact after every write. If it isn't, the data is blocked off and written elsewhere.

This process could reduce the available space and reduce performance, but data center SSDs have capacitors to guarantee higher availability than what is offered in the consumer models.

Lastly, Intel data center SSDs contain Power Loss Imminent (PLI) technology. These SSDs contain capacitors which, in the event of failure, continue to power the electrical circuits to complete any write cycles in progress and to prevent any data corruption.
Technologies and features
While classic hard drives are made of magnetic bands and steered by a mechanical arm, solid-state drives (SSDs) are only made of flash memory chips, which speed up the drives significantly.

Detailed spec. of drives available in the OVH Dedicated Server ranges:
| | | | | | | |
| --- | --- | --- | --- | --- | --- | --- |
| Storage capacity (GB) | Bandwidth (MB/s) | | Operations per second (IOPS - 4KB Blocks) | | Latency (µs) | |
| Storage capacity (GB) | Bandwidth (MB/s) | | Operations per second (IOPS - 4KB Blocks) | | Latency (µs) | |
| | Read | Write | Read | Write | Read | Write |
| 300 GB | Up to 500 MB/s | Up to 315 MB/s | Up to 75,000 IOPS | Up to 9,000 IOPS | 50 µs | 50 µs |
| 480 GB | Up to 500 MB/s | Up to 410 MB/s | Up to 75,000 IOPS | Up to 11,000 IOPS | 50 µs | 65 µs |
| 800 GB | Up to 500 MB/s | Up to 450 MB/s | Up to 75,000 IOPS | Up to 11,500 IOPS | 50 µs | 65 µs |
---