vRack Part 2: Use cases for our private networking solution
---
vRack Part 2: Use cases for our private networking solution
By James MacKenzie
A couple of weeks ago I shared the benefits of vRack, our private networking solution that allows customers to connect their OVHcloud™ services together, no matter where they are in the world.
Now I want to share how a customer would use vRack themselves. Here are a couple of scenarios:
Secure Traffic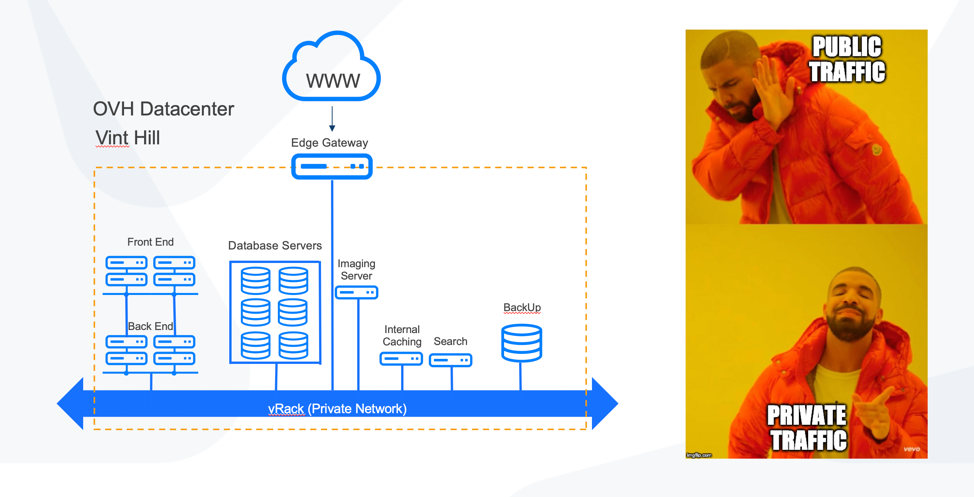 In this simplified architecture I wanted to show a common server infrastructure.
All of these dedicated servers can be routed behind the edge gateway and put into a private network, the vRack, and connect at Layer 2. Traffic can be segregated across 4094 vLans.
vRack allows you to connect all of your servers together in a private layer 2 network and allows your servers to communicate with each other at speeds of up to 3Gbps of totally unmetered traffic.
You can also assign your own private IP addressing scheme which is also included with the cost of your machines.
What happens if you don't need a pure bare metal solution and want to benefit from a more flexible cloud solution or a hybrid dedicated and cloud solution? The following use case can answer that.

Multi-Product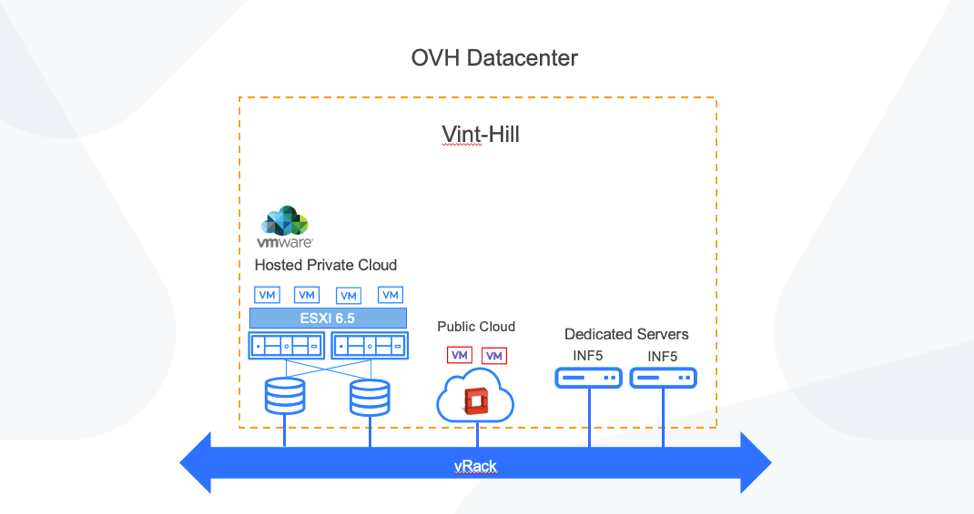 Here is a customer use case that has mission critical internal workloads that have to meet specific standards.
This is a very light version of the actual infrastructure to give you an idea of vRacks capabilities of linking our products together to segregate traffic.
The customer has a Hosted Private Cloud (HPC) which includes a VMware Enterprise plus license and NSX. NSX combined with vRack allows dedicated servers to communicate through NSX which gives you full control of your network.
This way the customer can segregate traffic how they see fit, connecting OVHclouds main products together:
Hosted Private Cloud for all of their internal critical machines
Public cloud to spin up and down their dev environment by the hour.
Dedicated Infrastructure servers with NVMe drives for their databases
Dedicated Infrastructure servers for their frontend app+web servers
vRack enables private network across datacenters and traffic segregation
What if you have multiple sites, or customers in multiple locations?
Multi Location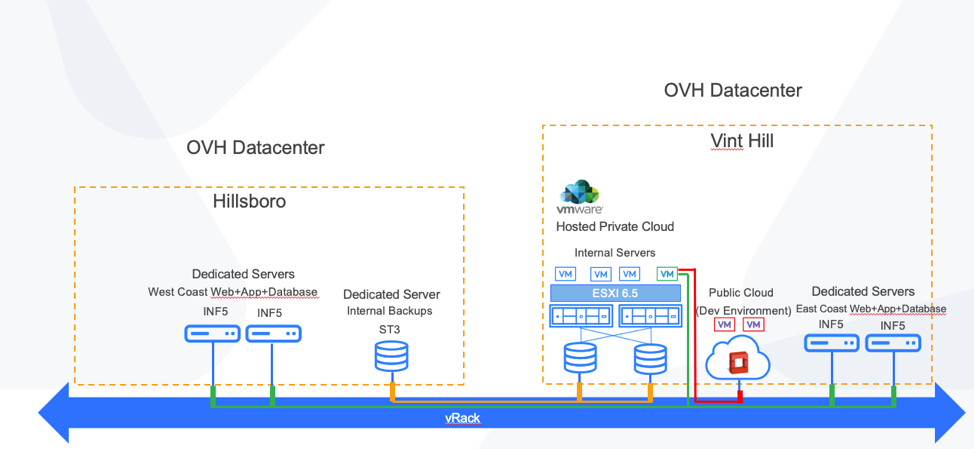 The previous case evolved. Now the customer wants to do external offsite backups of their internal environment, but they do not want to go across the public network or create a Site to Site VPN.
They also have west coast customers complaining about latency.
They way to address this issue is to deploy new servers and add them to the vRack and create a layer 2 stretch across DCs.
They will add a dedicated ST3 storage server in our Hillsboro datacenter to use as a backup target across vRack. They will also deploy 2 new INF5 servers for their Web+App and now their traffic can be load balanced and give their customer base a better user experience.
This can be mixed across almost all OVHcloud datacenters with the exception of the APAC region today. This gives you the possibility of doing a layer 2 stretch across 26 locations in Europe and North America with no bandwidth transfer fees.
vRack is a powerful networking capability that creates a fast, connective experience across cloud types and data centers. Read more about it here.
---