The OVHcloud Public Cloud is part of the Cloud Spectator ranking for the 1st time and gets ahead of the major American players
---
The OVHcloud Public Cloud is part of the Cloud Spectator ranking for the 1st time and gets ahead of the major American players
In its first showing among the Top Ten Public Cloud Providers, OVHcloud ranked 2nd place in North America and 1st place in Europe, surpassing all major American players. This result validates a public cloud model that doesn't compromise on performance or price, and bodes well at a time when the company is officially setting up in the United States.
Based in Boston, Cloud Spectator is an American firm that specializes in comparative studies of cloud product offers. It has recently published its annual Top 10 of public cloud providers (Infrastructure-as-a-Service (IaaS)) providing the best performance/price ratio. Their value score (CloudSpecs Value Score) is measured as follows: the company screens CPU performance and stability, block storage and memory for 4 sizes of virtual servers, which allows to assess the actual value of the instance for the user.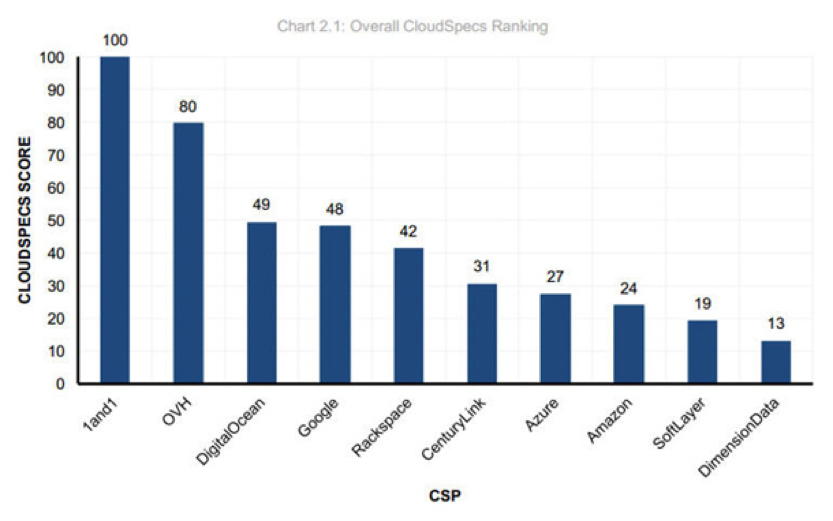 Coming in 1st place in Europe and 2nd place in North America, OVHcloud outdid some big names among American cloud providers such as Rackspace, Google, Digital Ocean and AWS. OVHcloud has proved that its Public Cloud offer is more than just a simple alternative, both in terms of performance, including its low variability over time, and prices. This feat can be explained by OVHcloud's iconoclastic business model that combines technological innovation with full control over the supply chain from server manufacturing and in-house maintenance of its infrastructure, right down to customer support.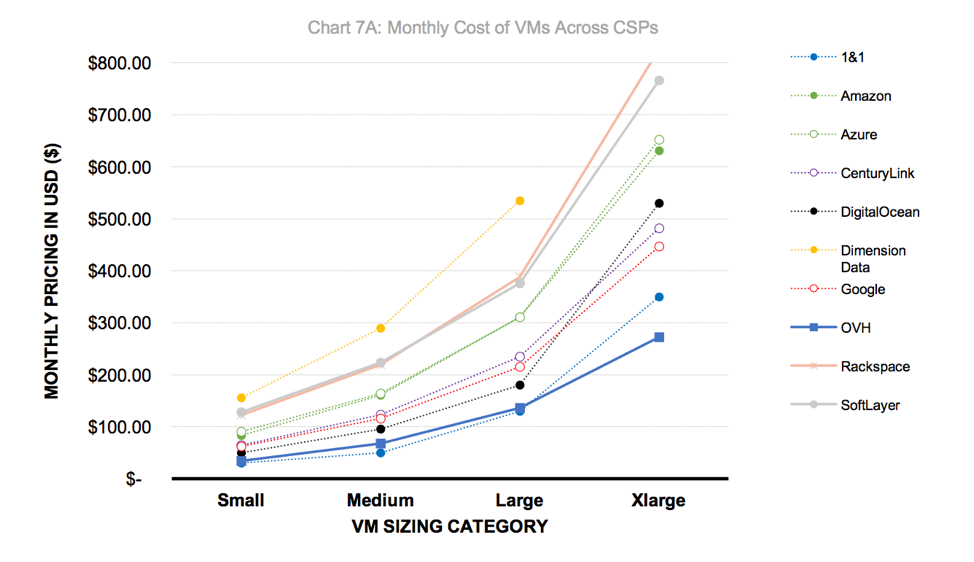 Not all cloud product offers were created equal
The main priority for Cloud Spectator is to bring more transparency to the cloud market by offering companies some guidance when it comes to choosing their IaaS provider. In that respect, the Cloud Spectator rankings reveal some "strong discrepancies between the various players in terms of pricing, performance and stability," as noted by Kenny Li, CEO of Cloud Spectator. So much so that Cloud Spectator is inviting buyers to look, not only at the unit price, but also at the performance since it will affect the provisioning of the infrastructure and therefore its overall cost, which can quickly escalate.

Seeing OVH as a top ranking-provider is the result of a fundamental difference in the way the OVHcloud Public Cloud product offer was designed, by providing guaranteed high availability (HA) instances with no over-allocation. Basically, the user has access to all resources, all the time… whereas most providers use very different calculations. "The best-known players," says Pierre Ourdouillé, Public Cloud lead tech, "want to make their infrastructures as profitable as possible and they assume that people never use 100 % of their resources. So they end up selling more resources than what the physical servers hosting their virtual machines can actually provide. This results in the user not getting access to all the resources he pays for 80% of the time. Sometimes users can have access to 90% of resources, but sometimes it's a lot less than that. This is where it gets annoying and that is what we call the "noisy neighbor effect." It's all legal but it's better to be aware of it before committing. And this is what the Cloud Spectator benchmark is trying to highlight."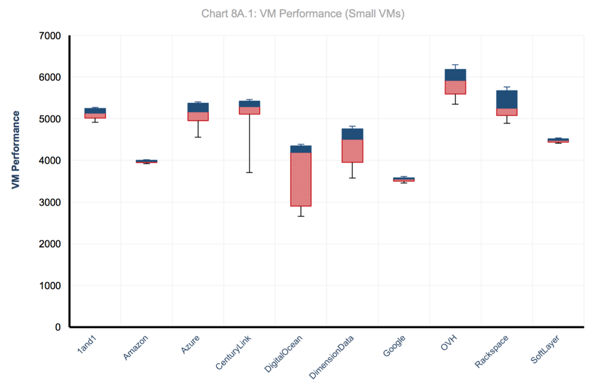 Do your own testing!
As Cloud Spectator rightly points out, the absence of standard benchmarks and the abundance of variables to be taken into account makes it difficult to compare cloud services between providers. Moreover, depending on the configuration of the service, the chosen options (notably in terms of storage) and the kind of workload being considered (based on the application that will run on the VM), performance will vary. While we have no doubt about the quality of Cloud Spectator's benchmark, which we believe is providing us with an accurate picture of the product offers' value, we still encourage users to test our infrastructures with their own applications in order to get a clear indication of our Public Cloud's actual performance.

This test will be even easier to perform with OVHcloud, given that our Public Cloud is interoperable and totally reversible. Now here is an argument that isn't revealed by benchmarks but is crucial according to us and should be a decisive factor in choosing OVHcloud: OVHcloud uses, contributes to, and features the OpenStack API, thereby providing users with portable cloud environments and hybrid operations between OVHcloud and various cloud providers.
One data center in Canada, two in the United States
One necessary condition in choosing cloud providers who will qualify for these rankings is to own a data center in North America. The data center owned by OVHcloud and chosen to do the testing is located South of Montreal. With a capacity of 360,000 servers, it's not only one of the largest, but it is also one of the most eco-friendly data centers in the world with a record energy efficiency index (PUE : 1.09). This is possible because of the OVHcloud proprietary liquid cooling system for servers, which completely eliminates the need for air conditioning. Benefits from these energy savings are passed onto OVHcloud customers and allow the company to maintain the highest performance cloud instances at the best price.

It should be noted that two new data centers, the first owned by OVH in the United States, will open their doors in Virginia and in Oregon in late 2017. These new locations will allow OVHcloud to meet a growing demand in outsourced infrastructures and better support its customers,who are currently at over one million globally.

Get the 2017 Top Ten European Cloud Service Providers Report
Get the 2017 Top Ten North American Cloud Service Providers Report
---