August 29, 2018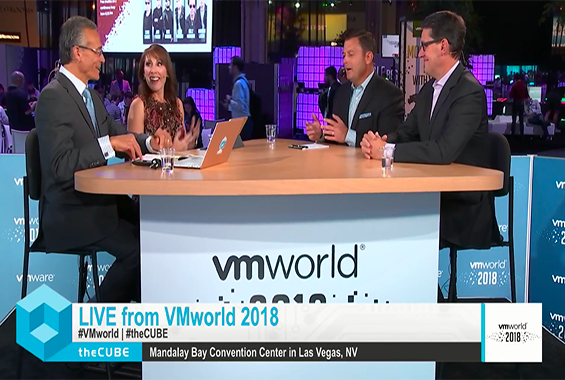 We formally announced the launch of the OVHcloud™ Partner Program this week at VMworld Las Vegas. Check out an interview with theCUBE at VMworld with David Wigglesworth, chief revenue officer of OVH US, and Geoff Waters, vice president of global cloud sales for VMware, to learn more about how the OVHcloud Partner Program can benefit customers and partners: David Wigglesworth, OVHcloud & Geoff Waters, VMware | VMworld 2018
This new program expands the market opportunity of our infrastructure-as-a-service offerings to customers. This offering is available to resellers, system integrators, system outsourcers (SISO), and managed service providers (MSP). Through the program, we will offer new OVHcloud solutions to our partners, who will benefit by providing alternative and lower cost options to their customers.
The OVHcloud Partner Program offers benefits including:
Breadth of offerings:  Partners can take advantage of multiple offerings ranging from VMware-based hosted private cloud to public cloud to bare metal.  This wide variety of options gives partners the ability to pick the offering that works best for delivering their solutions to clients. 
Revenue opportunity: Partners can leverage an already price-competitive OVHcloud offering coupled with partner discounts to build a strong business model. 
Flexibility and agility:  Partners have the flexibility and agility to run their business and scale with their clients. 
Resources and support: Partners will access support including training, marketing, and sales activity planning to ensure partner success.
The company is kicking off a dedicated partnership program to attract more partners and offer greater value to enterprise customers as well as developers. Our initial partners are VMware, FusionStorm, Intel and Eplexity. The combination of OVHcloud's infrastructure and FusionStorm's vast engineering capabilities can provide a simple path for VMware-based customers to experience the agility of the cloud, while also reducing risk associated with cloud transformation. OVHcloud also previously announced partnerships with Veeam for backup and recovery and Zerto for disaster plan recovery.
OVHcloud will enable partners to grow their cloud business by bringing infrastructure options to include the VMware-based hosted private cloud, public cloud and/or bare metal servers. The program consists of four tiers, giving partners the opportunity to select the level that most aligns with their business goals. Each level provides different resources, benefits, and financial incentives to support customer and sales needs.
David recently told CRN that "the market is really clamoring for something [new]." This program gives customers and partners an alternative choice that brings enterprise expertise, as well as the knowledge of owning our own infrastructure, with dedicated data centers and our bare metal server offerings.
Learn more about the OVHcloud Partner Program to discover why this is the right time for the cloud market to work together. Stay in touch with the latest updates from OVHcloud by following us on Twitter, LinkedIn and Facebook.