Efficiently and securely collecting data results in faster diagnoses and treatment. Meeting HIPAA and PCI requirements is also critical. A cloud infrastructure, such as VMware vSAN powered by OVHcloud delivers it all plus cost reductions.
January 19, 2023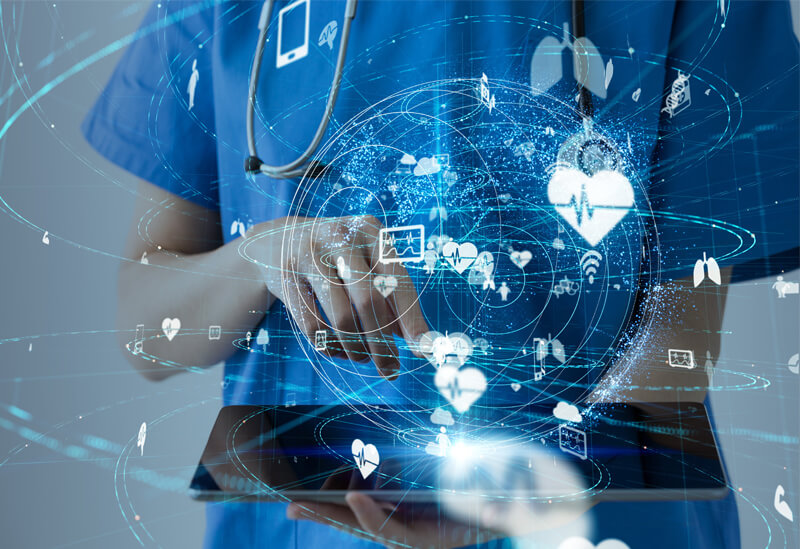 Modernizing Healthcare Facilities' IT Infrastructure with vSAN
As technology evolves, so does its role in helping modern healthcare entities deliver critical patient care. Quickly, efficiently, and securely collecting data results in faster diagnoses and treatment. Thus, high availability and reliability are essential for healthcare organizations' cloud infrastructure solutions.
They aren't only important from a practical standpoint but also from a compliance perspective. As technology increases, so too do HIPAA and PCI requirements. This raises the demand for HIPAA and PCI-compliant cloud infrastructures, such as VMware vSAN powered by OVHcloud that combines performance, security, and cost reductions.
With vSAN, healthcare providers can streamline their infrastructure and provide patients with the healthcare they need in a seamless environment, even during an outage or disaster. Additionally, when you partner with OVHcloud for your VMware vSAN, you enjoy increased data flexibility and control (as well as the latest technology and highest thread counts for your processors). We are also HIPAA and PCI DSS, so you can benefit from a provider who understands the ins and outs of compliance.
Simplify your data protection and disaster recovery processes and increase the availability of highly transactional data. Benefit from VMware's vSAN hyper-converged infrastructure (HCI) and witness the future of data mobility, security, and storage. Healthcare data protection has never been this simple, fast, and mobile.
What Are the Benefits of vSAN?
Some of the most common healthcare functions in healthcare rely on intensive infrastructure. vSAN can solve your infrastructure woes with the following benefits.
Performance and Reliability
Your cloud infrastructure needs to deliver applications quickly, efficiently, and consistently, especially in the face of high-demand applications or outages.
You likely provide healthcare over the internet, need to access your patient's healthcare history, and issue diagnoses based on patient record analysis. vSAN makes transactional data availability fast and seamless with high-speed NVME drives and multicore processors.
As a healthcare organization, you must fulfill the needs of numerous users trying to pull data simultaneously. vSAN provides accelerated data speeds with its highly transactional properties.
With up to 50,000 reads and writes per second, OVHcloud can handle the demand of multi-user workloads, including patient records and sensitive applications.
vSAN not only gives your data more protection and accessibility, it saves time and money. With increased IOPs, vSAN exchanges data faster between systems. Administrators can move data at extremely high speeds (up to 50,000 reads/writes per second) using high-performance software-defined storage. vSAN also creates a large storage pool across multiple hosts local to the organization.
Without vSAN's ability to link data, you risk latency issues and a slowdown of your operations. In the future healthcare environment, you will need your data linked across greater distances. vSAN offers a ready-made solution for this issue.
Easily connect clusters across the country with vSAN. As your environment changes, you can add, remove, or optimize storage to manage your infrastructure more effectively.
Scalability
vSAN allows you to modify your computing and storage capabilities linearly as your needs change. Adding nodes scales your computing and storage while vSAN redistributes the data automatically to optimize performance. vSAN's treatment of storage as an exclusive resource of the cluster introduces operational and design flexibility that doesn't exist with legacy infrastructure – giving a more modular and predictable approach to growth.
Uptime/Availability
vSAN delivers enterprise-level availability to ensure your environment is dependable, stable, and compliant. With vSAN, your data is mirrored across the cluster – not just across storage devices – and increases your reliability and uptime. You can also further define storage requirements by VM to determine how to provision and allocate storage within the datastore to guarantee the required level of service.
Security
Your cloud infrastructure must adhere to applicable regulatory compliance acts, such as HIPAA and PCI. vSAN offers native HCI encryption, protecting against unwanted access to data-at-rest. Single keys per cluster work with KMIP-compliant key management servers to simplify encryption management. Isolate VMs housing sensitive information and encrypt on a per-cluster basis.
vSAN Hospital Use Cases
As a healthcare organization, you need an infrastructure that increases your ability to cope with stringent compliance and storage requirements. HCI provided by VMware's vSAN provides this by seamlessly connecting the digitization of healthcare with your commitment to patients.
With VMware's vSAN, you implement the correct protocols in your organization to ensure your patients' data is readily available and replicated on the storage options of your choice. Additionally, this increased control over data contributes to a more mobile-friendly work environment in the event of failover for a disaster recovery event.
Following, we detail VMware's vSAN use cases in healthcare environments.
Medical Imaging
As Artificial Intelligence (AI) continues to play a larger role in MRIs, CT scans, X-Rays, and ultrasounds, the volume of disc space needed to store these images must expand. vSAN lets you control how much space you need and gives you increased data transfer capabilities.
Electronic Health Records
Electronic Health Records (EHR) and Electronic Medical Records (EMR) systems provide digital records of patient health information and records used by providers. You need an infrastructure that can fulfill constant data retrieval times and high connectivity with external networks. vSAN can ensure the continuity of these records.
Mobile Applications
With a higher variety of mobile apps, clinicians need higher availability. Virtual Desktop Infrastructure (VDI) can deliver these applications securely throughout their facility/network. vSAN gives you a dependable infrastructure to house these applications.
Disaster Recovery
Due to the sensitive nature of the records your healthcare organization maintains, the threat of data loss is significantly higher. You need an infrastructure with increased speed, redundancy, and flexible storage capabilities to minimize downtime and data loss.
OVHcloud-Specific Benefits and Technical Use Case Scenarios
VMware's vSAN powered by OVHcloud brings unparalleled flexibility to your healthcare organization's IT infrastructure. You own your data and storage capabilities end to end, even with increasingly stringent compliance requirements.
With around-the-clock server access and full vSphere access, OVHcloud gives you a superior on-prem experience in the cloud.
Start with as few as three hosts and add on-demand computing and storage within minutes
Increase resources at hourly or monthly intervals for increased flexibility and scalability
No ingress or egress fees provide predictable billing
Unlimited 50Gbps connectivity to the host
50,000 reads/writes on NVMe drives for a highly transactional database engine
Advanced technology, including the highest core and thread counts
Simplify Your Healthcare Organization's Infrastructure with vSAN
In the future, healthcare organizations will become bottlenecked without a high-speed IT infrastructure that can provide transactional support in times of need. And without the correct infrastructure in place, you may not be able to handle the challenges surrounding the storage and availability of your data in the event of a disaster recovery event or outage.
With seamlessly linked databases, protected data, and boosted agility that cuts costs, healthcare professionals can now access all of their hospital's applications from any device. VMware and vSAN are critical components to an infrastructure that leads to quicker diagnoses and enhanced processes.
It's time to upgrade your healthcare organization's infrastructure. With VMware's vSAN powered by OVHcloud, you can reduce liabilities, streamline data across highly transactional applications, cut costs, and increase efficiency.
Bottom Line
VMware vSAN by OVHcloud provides the high-speed infrastructure to support the performance, availability, security, and scalability requirements of today's healthcare organizations. Its flexibility bridges the traditional gap between siloed hardware and software solutions for simplified management.
OVHcloud's VMware heritage brings the support and predictability your modern healthcare organization needs. Contact us today to learn more about how VMware's vSAN can position you where you need to be as HIPAA and PCI compliance becomes more complex.