Accelerate your cloud strategy with guaranteed resources, ultimate flexibility, and leading developer tools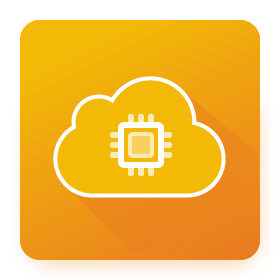 Public Cloud Instances (virtual servers) combine flexibility and guaranteed resources. In less than a minute, you can get the CPU, RAM, and storage you need with no over-allocation of resources. You are also the root user, just as you are with a dedicated server. OVH Public Cloud offers hourly billing and attractive features such as the ability to add resources without reinstalling. Want to automate your cloud infrastructure? That's easy with the OpenStack API.
Public Cloud like no other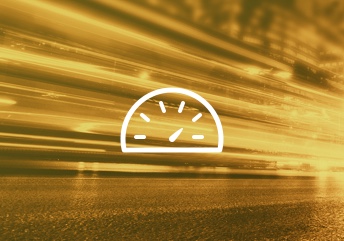 High performance and availability
Zero over-allocation —  Our Public Cloud provides every user with guaranteed cloud resources with no over-allocation. You get 100% of your resources, with reliable and optimal performance.
High availability — We support your most demanding production workloads with native, software-defined high availability, cloud infrastructure managed entirely by OVHcloud, and hardware powered by the latest-generation CPUs and technology.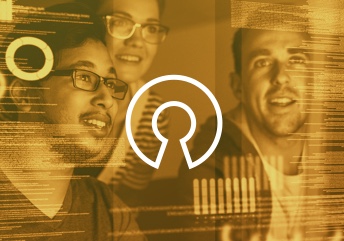 Open-source portability, open-source friendly
OVH works in close collaboration with open-source industry-standard OpenStack to ensure your cloud environments are portable and able to work in hybrid mode between OVH and other cloud providers.

OVH also uses, contributes to, and shares OpenStack APIs. That's one of the developer-friendly ways we support the OpenStack community.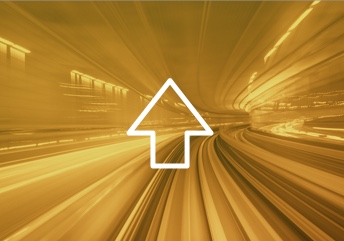 We aim to please
Our billing practices are refreshingly simple. There are no extra fees, no overages, for handling traffic or requests with any of your instances.

Our storage is triple replicated and distributed

— due to Ceph technology — for native data availability.

You ask, we answer. OVH customer support reps will actually take your support requests and help you through.


 
Flexible servers

Launch multiple machines with a single click

Have a peak load? Increase the power of your instances, then return to nominal power without reinstallation

Migrate from one model to another without ever having to reinstall

Provision new Public Cloud Instances in seconds

Unlimited snapshots

Take snapshots of your servers with only a few clicks or via the API to quickly back up your environments or speed up your developments

Create snapshots of additional disks

Simple billing and usage alerts

Receive monthly invoices for each project, including usage and servers (servers by the hour, additional disks per GB)  

Keep your budget under control with usage alerts

Pay by the month and save

50% off the hourly rate

Unlimited bandwidth with Anti-DDoS protection

Additional IPs with no monthly fees

In addition to the free initial IP, you can add up to 256 IPs per server and move them from server to server in seconds

You only pay a setup fee for additional IPs

Global private networks

With vRack:

Create private networks to secure and speed up exchanges among your virtual servers

Unlock your machines' ability to communicate between data centers, from one area of the world to another

Create vLANs as needed

Management per project

Organize your resources, servers, and disks, and provide users with read-only or read-write access mode

Grant your teams direct access to OpenStack tools, such as CLI and API

Ready-to-use custom distributions with import/export of templates

10 Linux/Unix distributions (such as Ubuntu, Debian, CentOS, FreeBSD) are included
Windows operating systems available at additional no charge

Import your images using wellknown public or private cloud formats

Easily automate your software deployments, thanks to the compatibility of our images with cloudinit

Export your images

—

including QCOW2 and VMDK (VMware), VDI (VirtualBox), RAW and OVA (Amazon), and VHD (Microsoft)

—

with KVM and QEMU

OpenStack ecosystem

Access the OpenStack API to take advantage of numerous compatible tools and open-source and proprietary projects

Use the "vanilla" version of the Horizon OpenStack web application to experience your OpenStack Public Cloud

Root access

As with all OVH infrastructure products, you are the administrator of your machines
---
Specifications
Network

Unlimited Bandwidth — no charge

Up to 256 IPs per General Purpose, RAM, and CPU instance; 16 on Sandbox Instances

Free Anti-DDoS protection included

vRack connectivity available

Optional: Failover IP (one-time setup fee, with no monthly fee thereafter)
Optional: IP Load Balancing:

Distribute your traffic intelligently across several instances

Snapshots

Billed per hour or month, per GB

Storage

Software

Linux Distributions:

Archlinux
Centos 6, Centos 7
CoreOS
Debian 7, Debian 8, Debian 9
Fedora 26, Fedora 27
FreeBSD 11.0 ZFS
Ubuntu 14.04, Ubuntu 16.04, Ubuntu 17.10, Ubuntu 18.04

Windows Distributions:

Windows Server 2016 Standard (Core edition)
Windows Server 2016 Standard (Desktop
Windows Server 2012 r2 

Additional images for:

Docker
GitLab
OpenVPN
Plesk
WordPress
Virtualmin 
VestaCP 
DataScience

Administration

Control Panel

API

Root access to the server

Access via the KVM/IP graphic console

Support

Level 1 incidents (e.g. server unavailable):

Intervention Time: 1 hour
Repair Time: Intervention + 2

Level 2 incidents (e.g. abnormal operation, software config problems)

Intervention Time: 12 hours

Service-Level Agreement (SLA)

Availability of Resources: 99.999%

Allocation only to you: 100%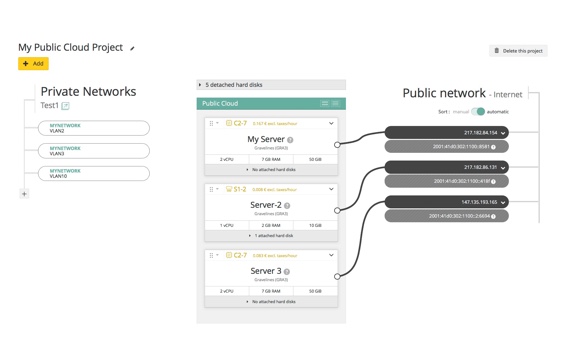 Cloud Control Panel: An intuitive interface
Are you a developer or infrastructure engineer seeking a more technical interface? With OVH, you gain access to both the Horizon management interface and standard OpenStack APIs. For more information about this open-source environment, including tools, documentation, and tutorial, watch this video.
Mature
Organizations such as PayPal, Walmart, NASA, and CERN use OpenStack.
Standard
OpenStack guarantees portability; you can use the same API even if you change providers.
Hybrid-Enabler
Looking for a hybrid strategy? Use the same API on your OVH Private Cloud and Public Cloud.
Community
OpenStack is one of the world's most active open-source projects, even ahead of the Linux kernel.
Ecosystem
By exposing the OpenStack APIs, OVH gives you access to all the SDKs developed and maintained in common programming or scripting languages, including Python, PHP, Java, and Go.
Automation
OpenStack is compatible with dozens of tools and orchestrators, including Terraform, Docker Machine, Vagrant, Juju, SaltStack, Cloud Foundry, RightScale Cloud Management Platform, CloudForms, and Scalr.
Expertise
Want to learn more and connect with your peers? The OpenStack community is very active, with dozens of events taking place each month around the world.
Scalability
OVH regularly integrates new OpenStack features to provide you with the most benefits and functionality.
OVH is a major OpenStack partner and infrastructure donor and source code contributor.  We compile and test patches and new features – included in OVH Cloud instances – and provide back to OpenStack for inclusion.