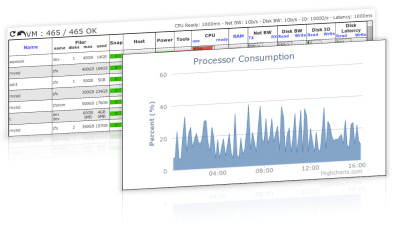 All of your tools in one convenient dashboard
With each Hosted Private Cloud service, OVH provides the tools you need to supervise and monitor your virtual machines and infrastructure. Your resources, and all of the pertinent details about them, are displayed on one page. You can instantly view the number of cores and VMs, the load on your CPU and memory, and the network traffic for each host in your Hosted Private Cloud cluster. Assess your virtual data center at a glance with convenient color-coded statuses to help you anticipate needs and quickly adjust your resources.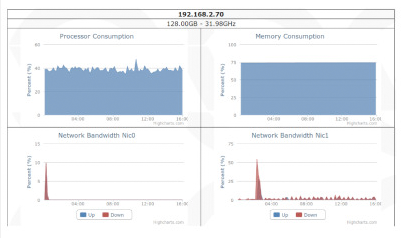 No additional software needed; Information is a click away
Within the vScope interface, you can double-click on a host or a VM to access accurate data on this resource. View a history of daily, weekly, monthly or even annual use – by using your mouse to zoom in on your chosen time period. Access vScope through OVH Manager.
---